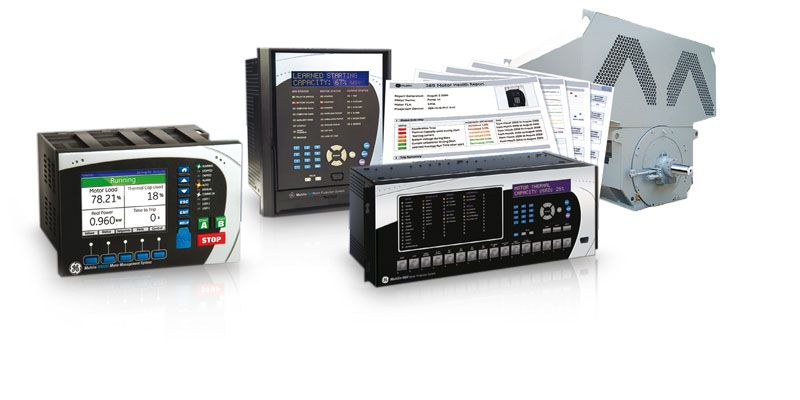 Los sistemas de protección de motores de GE utilizan modelos térmicos avanzados para proporcionar una protección optimizada y garantizar un máximo tiempo de actividad del proceso. Nuestros ingenieros y técnicos altamente calificados comprenden la protección del motor y los diversos escenarios que pueden causar daños a los motores. Aplican sus conocimientos al diseño y fabricación de algunos de los sistemas y relés de protección más avanzados del mundo.
Conozca los principales modelos en Sistemas de Protección de Motor 
M60 Motor Protection System

Comprehensive protection for medium and large motors. The M60, a member of the UR Family, is a full featured relay designed for the protection and management of medium and large horsepower motors. The M60 incorporates advanced features such as an enhanced thermal model, standard and custom thermal limit curves, current unbalance biasing, running and stopped exponential cooling curves, optional RTD modules, and hot/cold motor compensation. Use the M60 in protection applications requiring complex I/O configurations and high-speed communications.

Multilin 869 Motor Protection System

The Multilin 869 relay is a member of the Multilin 8 Series protective relay platform and has been designed for the protection, control and management of medium and large induction and synchronous motors. The Multilin 869 provides advanced functionality for various types of applications such as high-speed protection, extensively customizable programmable logic, advanced motor monitoring and diagnostics, and flexible configuration capabilities. The advanced communications of the 8 Series platform allows an easy integration into the process and electrical control systems for smoother asset monitoring and control.

Agile P24x Motor Protection

The P24x relays offer comprehensive motor protection, control and monitoring for both induction and synchronous motors with up to 10 RTD inputs. The relays provide enhanced diagnostics and fault analysis, optimized machine thermal image monitoring and customized thermal curves to match more closely with the machine withstand limits.

469 Motor Protection System

Complete, integrated protection and management of medium and large motors. The 469 Motor Protection System, a member of the SR Family of protection relays, is for protection and management of medium to large horsepower motors and driven equipment. It includes advanced features such as analog inputs for vibration monitoring, voltage dependent overload curves, torque protection & metering, and broken rotor bar protection. Use the 469 in two speed motors, motors with high inertia loads, or where reduced voltage starting is a requirement.

369 Motor Protection System

Comprehensive protection and monitoring for three-phase motors and their driven equipment. Designed for medium-sized motors, the enhanced 369 Motor Protection System delivers advanced motor health diagnostics, graphical and data rich fault diagnostics, simple six-step setup & configuration and complete traceability of setting changes, enabling industrial facilities to maximize process up-time and optimize rated motor output.

339 Motor Protection System

Complete protection, control, diagnostics and communications for small and medium sized AC motors. Designed for medium voltage motors in industrial applications, the 339 delivers unparalleled protection, control, diagnostics and communications in an industry leading draw-out construction. The 339 Motor Protection System provides simplified setup configuration through the use of the Motor Settings Auto-Configurator, advanced graphical diagnostics with the Motor Health Report and support for multiple communication protocols including IEC 61850. This 3 Series relay is available with draw out or non draw out options.

Agile P253 Motor Protection

The Agile P253 provides basic motor protection for small and medium size MV/LV motors. It includes a wide range of measurements for motor supervision and operations including starting current record, and features flexible SCADA communication options such as Modbus/IEC 60870-5-103 or DNP3.0.

MM300 Low Voltage Motor Management System

Comprehensive low voltage motor management including automation and diagnostics. The MM300 integrates advanced motor protection, control automation, communication and diagnostics into a single rugged, flexible device for low voltage motors. Designed to be mounted in MCCs in harsh plant environments, the MM300 combines protection and PLC functionality in a small, modular hardware platform.

MM200 Low Voltage Motor Management System

The MM200 Designed for low voltage motors in process and control applications, the MM200 delivers superior protection, control, comprehensive communications and design flexibility for maximum ease-of-use and process continuity.

SPM Synchronous Motor Protection System

Starting protection, synchronization and control for synchronous motors. The SPM controls starting, synchronizing, and protection of collector-ring or brushless type synchronous motors. The SPM's control functions for starting the synchronous motor include accurate sensing of motor speed and rotor angle.

RRTD Remote RTD Module

Remote temperature monitoring of RTDs for metering and protection. The Remote RTD Module provides additional RTD temperature metering capabilities for the 369 and M60 Motor Protection Systems.

239 Motor Protection System

Motor protection and management for small to medium size motors. The 239 Motor Protection relay is designed to provide protection and control to small to medium size motors. Use the 239 additional monitoring features to protect associated mechanical equipment from damage resulting from process malfunction.

MM2 Motor Protection System

Integrated process and electrical control with protection for low voltage motors. The Motor Manager 2 (MM2) combines control functions and comprehensive motor protection in one package. This compact device provides sophisticated control and protective relaying at significant cost savings. It includes integrated motor protection and process control in a small package, with or without display, that fits into standard MCC buckets.